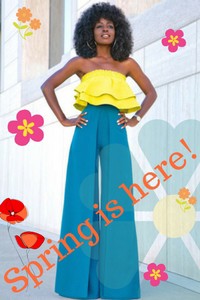 Off-the-shoulder, babydoll, cascading, circular, waterfall – what do all these have in common?
Hint: The look is uber feminine – you might be someone who loves them, or you might be someone who wouldn't be caught dead in them! If you're the latter, I'm hoping to change your mind. 🙂
Well…did you guess?
Here's another hint: This trend is a perfect "Summer of Love" look.
If you're a romantic, you know I'm talking about…scroll down please…
Keep scrolling…. 
                           Keep scrolling….
                                                                    Keep scrolling….
Ruffles!
Yes, ruffles.
They're a trend this spring, summer, this upcoming fall and hopefully beyond –  and one that I have to admit I absolutely love!
Before you poo poo it, because you're a "modern" girl, don't discriminate yet! Ruffles, come in all shapes and sizes, in styles that are over the top feminine, to ones that are cutting edge, and yes, in sleek, simple mod styles too.
I truly think that no matter if you're a girly girl or not, every woman should have a little feminine touch in her wardrobe. If you don't, this is the season to go for it! If you do, well then…you're in for a treat because I haven't seen ruffles done like this in almost forevahhh!
Here's a snippet of some of my faves: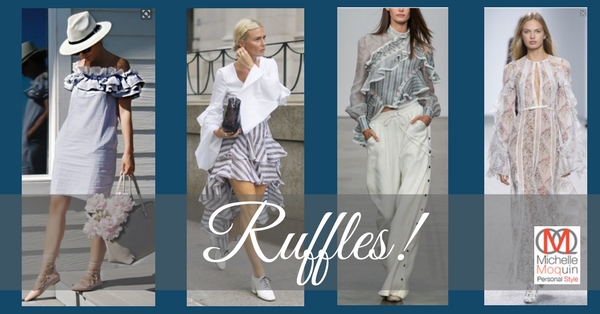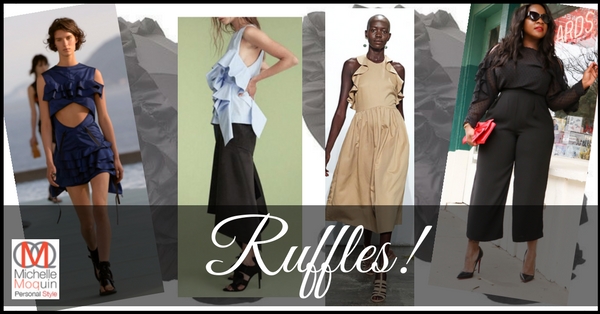 A Few Tips…
Remember that ruffles do not hide parts of your body; they bring attention to that area. If you don't want attention brought to your arms, hips, etc., keep the ruffles away from these and any other areas.
Ruffles add volume. If you want to look bigger in an area, fill that area with ruffles. If you're already small busted, adding ruffles will make your bust appear bigger.
Ruffles can give the illusion of a different Body-Type. If you're a "Triangle" and want to appear more like an "Hourglass" add ruffles to the shoulder area. Or better yet, wear an off-the-shoulder top to balance your wider hips.
And yes, the paperbag waistband is here again. Did it ever really leave? We saw it last year and I blogged about it.  With this season's ruffle trend, it fits in perfectly again this year.
Oh, Savannah…thanks for blogging your question. Unfortunately, I'm stumped by this one. I have no idea. If you ever find out, please blog me!
*****
Now, it's your turn. I'd love to hear from you. Your insights and inspiration are appreciated so please share your stories in the comments below.
If you have a question also post it in the comment section below. I check it daily. Since the topic is always about fashion or style no question that you ask will be "off Topic.
That means as far as I'm concerned, when you ask a question that is the topic. Everyone else who's reading it can follow up on my answer. There will be no questions that you ask that will be too far off topic because your question will be the current topic. So…ask away!
Oh,…and your email address is not "required" even though it says so. 🙂 Don't even ask.
Blog me,
Love,
~Michelle