"Every time I walk into a store I'm overwhelmed and I don't know where to begin."
Does this sound like you?
Whether you like shopping, or only do it out of necessity, the abundance of choices can be overwhelming.
As young girls, many of us loved shopping with our girlfriends on a Saturday afternoon at the mall. Today is a different story. We're lucky if we can schedule in a lunch with our BFF,  let alone sneak in some "leisurely" shopping time. "Leisurely" being the key word since many of us are shopping on our lunch break, usually running around in a rush, and sometimes frantically looking for that ___________(Fill in item, please) that would be perfect for a date night, black-tie event, or summer vacation, etc.
Needless to say, leaving empty handed or without something you truly love, is more common than leaving with that perfect piece. I hear you, and I feel your pain. Just because I'm a stylist don't think I haven't struggled with my wardrobe from time to time. I have, hence my mission to rid women the world over from the angst.
Thankfully because of my experiences, I have come up with quite a few tips and tricks that have helped me and countless other women during our styling sessions…aka "girl time."
Recently I worked with 5 women whom I gave 30 minutes of free time, for answering a few questions included in a previous newsletter. I love offering my time up every now and then because it is a true Win-Win for the person and me. I get to help someone conquer their shopping problems and I learn new ways to solve old problems and how to use old solutions to some of the new problems brought on by new technological mixes of fabrics and styles.
Thank you, Sharon Lewis, Shannon S McCall, Rachel Jones, Lea Anne Bailey, Rhonnda Mitchell. I so enjoyed meeting you and helping you with your wardrobes angsts.
Thanks too for the inspiration. All of you influenced this write in some form or another. It seems the common thread was, "I have a closet full of clothes but feel like I have nothing to wear. How do I build a wardrobe that I love so that I wear everything in my closet?"
It's really simple. Shop with a list, a purpose, and a plan. Be ruthless and committed.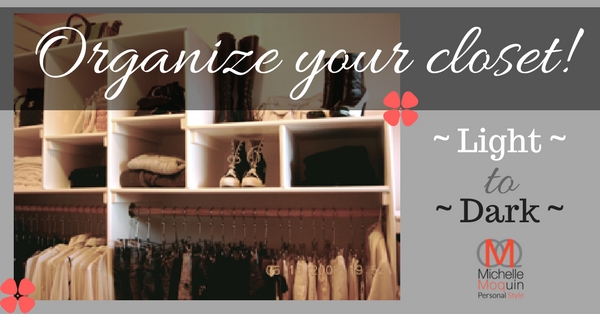 Let me break it down. Building a wardrobe takes time, dedication, and focus. Here's a few simple tips to building a wardrobe:
Learn your Body-Type. If you haven't taken my free Body-Type quiz, I suggest that you do.  You'll learn the key characteristics of your Body-Type which will be super helpful when you assess your clothing in the next step. You can do the quiz two ways:

By taking a few easy measurements – click here to take the quiz now.
Or just by looking at yourself in a full length mirror, and answering the questions. (No measurements needed) Click here to take the quiz now.

Conduct a closet audit by trying on all of your clothes. The best way to do this is to work in categories so that you don't feel overwhelmed. Start with your pants or blouses and go through every category. Take your time. You don't need to do this all in one sitting. However…be ruthless!

Put aside anything that doesn't fit, is too old, worn, dated, pilled, stained, etc, or what isn't bringing you joy when you put it on. Then do one of the following:

If stained, wash or send to the dry cleaner if cleaning is possible, or bring to a tailor if repairing or alterations is necessary.
Give to a friend;
donate;
sell;
or toss.

The items you are keeping should address all areas of your style:

The color works;
The shape works for your Body-Type;
The brand works for your Personality;
The style works for the kind of life you are currently living.

Make sure to go over all of your accessories too:

Jewelry;
shoes;
belts;
scarves, hats, gloves;
handbags.

Color Coordinate your "Keepers" in your closet. Hang what you're keeping in your closet from light to dark colors, short sleeve to long sleeve, adding in your prints and patterns at one end of the closet or by the dominant color. Or if you have lots of closet space, organize all your blacks and whites together, and your colors from light to dark.

Notice your buying patterns/habits in your wardrobe. Ask yourself these questions:

Do I have too much of one thing? (Such as black pants, white tees, etc.)
Do I have more bottoms than tops?
Do I have too much black?
Do I have too many solid neutrals (Black, white, grey, brown, etc.) and no colors and/or  interesting patterns and prints?
Do I have too many fun colorful pieces and/or patterns and prints, and no solid core neutrals?

Write down your answers from the above and make a shopping list. Be ruthless and commit to your list when you go shopping.

If you have too much black, commit to only buying color for awhile.
If you have too many black pants, commit to buying pants in other neutrals.
If you have only fun pieces, commit to buying a few basics to round out your wardrobe. They make creating outfits easier.
If you have more bottoms than tops, commit to only buying tops. You should have 3 tops to wear with every bottom.
This is just the beginning. By being mindful of what you already own, and what you need to buy, you are sure to be on the road to creating a well-rounded wardrobe that you will love and wear. Don't give up! Effortless dressing is just around the corner in your closet.
Now, it's your turn. I'd love to hear from you.  Your insights and inspiration are appreciated so please share your stories in the comments below.
If you have a question also post it in the comment section below.  I check it daily. Since the topic is always about fashion or style no question that you ask will be "off Topic."
That means as far as I'm concerned, when you ask a question that is the topic. Everyone else who's reading it can follow up on my answer. There will be no questions that you ask that will be too far off topic because your question will be the current topic. So…ask away!
Oh…and your email address is not "required" even though it says so. 🙂 Don't even ask.
Blog me.
Love,
~Michelle