Corporate and Political Candidate Seminars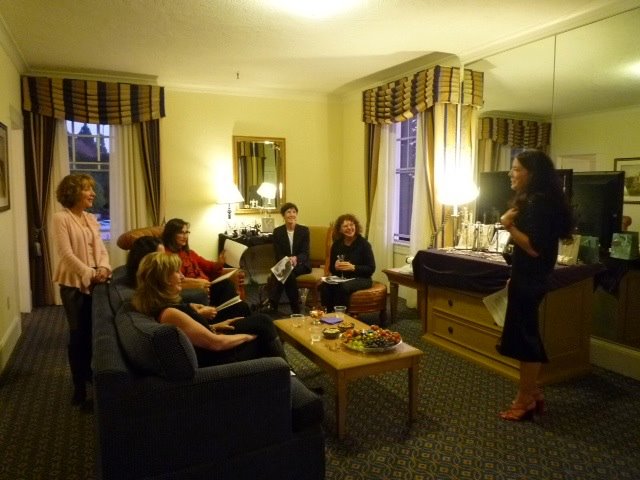 As a professional costumer in the motion picture industry, a featured style expert on a weekly television show, and a style advisor on a radio blog telecast, I bring a comprehensive experience to you through my style seminars.
Are you: 
wanting to climb the corporate ladder but feeling a little stuck?

tired of getting passed up in promotions as you watch your colleagues climb the ranks?

unsure if your clothing choices are supporting your message?

afraid your image isn't saying that you are someone who is confident, competent, trustworthy and approachable?
So…how many times did you say "Yes" to the above questions?
I've worked with executives in the corporate world, and political candidates on the rise, and have helped many get an edge over their competition. I can help you too.
My seminars are broad enough to be able to address the unique style requirements of the movie star, the specific needs of the corporate executive and political candidate, and the business and social requirements of the general public. So no matter where you are in your career, I can help you.
Senior Executives at tech companies such as Adobe, and biotech companies such as Genentech have used my services as their personal stylist. I have acted in a consulting capacity to corporate personnel on all levels concerning what works best synergistically for their Body-Type, Personality, and specific environmental conditions for the particular and general corporate task they wanted to accomplish.
Corporate Seminars
Gain knowledge of the various components of style as they relate to your corporate position, now, and where you aspire to in the corporate ranks.
Discover how to dress to meet your specific corporate goals.
Find out how the science of style, can help you gain an edge on the competition when it comes to getting others to accept your point of view.
Learn together. Seminars can be created with as little as 3 to 5 team members.
Political Candidate Seminars
Obtain a visual image of yourself that reflects your campaign message, as well as the message that your political party wants the public to have about you.
Discover how the right wardrobe can introduce you as someone who is confident, approachable, and trustworthy.
Gain a visual advantage over your competition whenever you enter a room or take a podium without having to say a word. 
Learn how to use the science of style, psychologically, and physically to gain an edge on the competition when it comes to getting others to accept your point of view.
Learn together. Seminars can be created with as little as 3 to 5 party members.
The bottom line is, if you want to…
increase your confidence;
get an edge over your competition;
influence the people around you;
advance your career;
ensure that your personal brand reflects who you are, who you want to be, and who people perceive you to be…
Professional Bio
Michelle Moquin is a Certified Personal Wardrobe Stylist and Color Consultant who shows businesswomen and men how to enhance their appearance, and establish a professional look, which will help them achieve the success they want in their professional and personal life.
Through her seminars, workshops and one-to-one style sessions, Michelle shows:
you the importance of dressing successfully in a competitive market. Whether it's about promoting the corporate image or your own. She demonstrates how color and style correctly partnered can give you the edge upon the competition;
you how color can increase your personal power, by showing you how to use your personal colors and their complements to make a statement about who you are when you enter a room. Michelle teaches you how to use style to say who you are, before you say who you are;
you how to use the physiological and psychological effects of color to influence others to accept your point of view;
you how to dress in clothes and colors that fit your Body-Type, and Personality. The end result is what she calls "The Killer Fit." To the professional, that's when clothing fits "plumb," like it was made for you;
you how to dress for a successful presentation. Here Michelle breaks down her instructions into two distinct categories:
The stage presentation – where she discloses the dos and don'ts in choice of stye and color for gaining and holding the attention of your audience.
The on camera presentation – in a series of displays and exhibits she uses her knowledge of the science of color and her experience in costuming actors for the motion picture industry to reveal how to use style to make an impression upon your audience that conveys confidence, credibility and charisma.
Her background in the fashion industry includes 20 years as a Fashion Designer. Her style sense and designs have been talked about, featured, and sold at home and abroad. Her collections have been spotlighted in magazines, on The View and World News Now, as well as being included in the Oscar Gift Bags for the Stars. Her clients include, Adobe, Genentech, Google, Stanford Computer Science, VMWare, Politicians, and Hollywood stars. If you or your company is looking to bring your team's image to the next level, Michelle and her team of trained professionals are available to show you how you can create a professional presence in the way you dress.